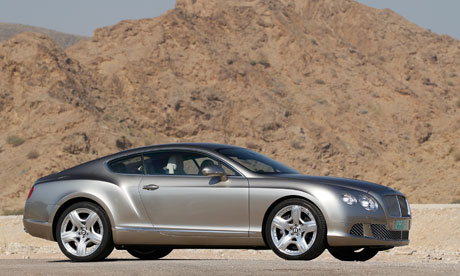 Price: £135,760
Miles per gallon: 17.1
Top speed: 198mph
What do you do when you see a sweating man changing the foot-wide punctured tyre of a Bentley Continental GT in the rain? You smile, of course, then drive past and inhale that most satisfying aroma – rank schadenfreude. Well, last weekend, on the busy A429, that man in the rain was me. To make the most of my time with the new GT, I'd taken it on a mini Grand Tour, up through the Cotswolds then back in a long lazy loop to London. I'd spent several happy hours powering past small fry and practising my look of haughty disdain. But then, to my horror, I plunged into a gaping pothole. A sickening thump was followed by the unmistakable slapping sound of a flat tyre. Worse was to come. The skinny spare has a limit of only 50mph, so I spent the day inching the 200mph supercar back home. The final insult was added when I was flashed doing 48 in a 40 just miles from London. Oh the perfect irony…
The Bentley Continental GT is enormous – it weighs in at an immodest 2.3 tonnes. The bonnet stretches into the horizon. Peering forward you can only hazard a guess where your four corners are. And yet, despite its awesome scale, it's the little things that win you over. The steering wheel is heated. The air vents are controlled by organ-stop chrome knobs. You can press a button to remind yourself of not only the air pressure in each tyre (zero in the front left), but which set of wheels you're driving on – the 20in, the 21in or the winter wheels. The boot is opened by lightly brushing the "B" on the rear badge. The boot and doors are self-closing and, let's be honest, having to shut things can be a real fag. Best of all is the fact that when you sink into your fat-man's driving seat, a small arm passes you your seat belt. Heaven forbid you might have to reach over your own shoulder.
If the Conti GT were a person it could well be Michael Winner. It is larger than life, brazen, unapologetic and quintessentially English – yet despite its shortcomings inspires great affection. It is packed with contradictions: it's hugely overweight yet boasts graceful lines and dances round corners; it is conservative yet technically ahead of its time; it is one of the most glamorous marques in the world, yet it is built in Crewe. But, channelling its inner Michael Winner, the Bentley doesn't hide this fact – it rejoices in it. Every vehicle has a metal plate screwed to the door with the words: "Handcrafted by Bentley Motors Ltd, Crewe, England."
This most recent model of the Continental GT now comes with a revolutionary six-speed auto gearbox that reduces shift times by 50%. The monumental 6-litre twin-turbo W12 engine has been uprated and now puts out a heroic 567bhp. The car features active air suspension, so it raises and lowers itself to improve its aerodynamics.
All this indulgence brings with it a certain amount of pain. And that pain is felt most acutely when watching the fuel-consumption figure. You feel like cheering when the figure jumps from 4.3 to 4.4 miles per gallon. Admittedly that was in nasty start-stop traffic – on the open road it was managing an average of about 21mpg – the official combined figure is a pitiful 17.1mpg. And that's surely enough to bring a blush even to the cheek of Michael Winner